While NDA's prevent us from truly showcasing all of the work we have completed for our clients, the slideshow below should give you an idea of what our talents are, and how we can help you with your project. (Click on any image to view larger slideshow.)
PATAGONIAIBIS CYCLESZERO MOTORCYCLESBLACKBURN DESIGNBUELL SURFCASES BY SOURCEMALOJA CLOTHING
JOBY AVIATIONSHIFT ROBOTICSTHULE, INC.ANDREWS COOPERFORWARD GLOBAL PARTNERSOUTERSPACE DESIGNADELIO WETSUITSOTTOBOCKKAPTURE PACKS
SUBPACSAVIOR BRAINXOTHRMSUITXUDP LABSCOLABS MEDICALWINTERLEAF WETSUITS
WHO IS HIGH FIDELITY SEWING?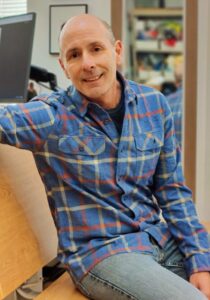 Peter Julber is the main principal behind High Fidelity Sewing. With over 30 years in the sewn products industry, Peter has a wealth of experience ranging from product development to manufacturing to outdoor gear repair services to soft goods prototyping.
Experience / Highlights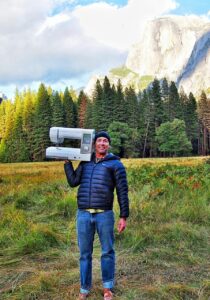 Early 1990's:  While living in Portland, OR, purchased a home sewing machine in an attempt to make custom outdoor gear and apparel. While those first items were horribly rough, he realized he had a talent for reverse engineering sewn products, and how to start at step one of many to produce a finished product. He grew that hobby into Cagoule Fleece: a line of polarfleece accessories with a post-consumer recycled content, with B2C sales and B2B nation-wide distribution (primarily in natural food grocery stores).
2014: After stepping away from Cagoule Fleece, moved to Santa Cruz, CA and founded Santa Cruz Gear Repair, offering outdoor gear repair and industrial sewing services to businesses and the general public. Became 3rd party repair facility for Patagonia, Tepui Tents, REI, Winterleaf Wetsuits and other brands. Last count had over 5,000 items come through the shop for repair.
2016: With Santa Cruz being located so close to Silicon Valley, numerous tech brands and design firms began reaching out for assistance with technical soft goods, mainly creating carry/case solutions and integrating electronics into soft goods. Our location allows those clients to visit the shop for hands-on design meetings and product evaluations.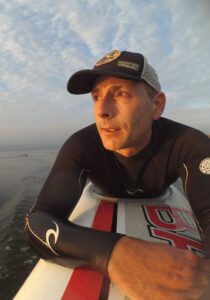 2017: Became involved in the Patagonia Worn Wear program, travelling the county and abroad as a repair tech, plus hosting repair events and trainings in Patagonia stores and dealers, as well as Outdoor Retailer, National Parks, and various festivals.
2000-current:  As our client list for sampling and prototyping services continued to grow, Peter chose to step away from the repair aspect of his business and focus solely on sampling and prototyping services with High Fidelity Sewing.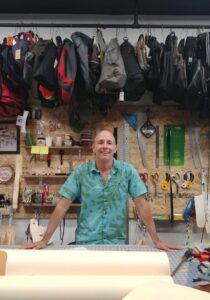 Together with his early years of experience behind a sewing machine, Peter credits his years of repair work with giving him his current skill set. With over 5,000 items repaired to date, either in his shop or out on the road (often with limited supplies and machines), the process of evaluating a sewn product, methodically disassembling it, performing the modification or repair, and reassembling the whole item gave him the experience and skill set to move forward with High Fidelity Sewing.
---
By the way, what's with the name?
According to Merriam Webster, the definition of 'fidelity' is:
the quality or state of being faithful
accuracy in details: EXACTNESS
the degree to which an electronic device (such as a record player, radio, or television) accurately reproduces its effect (such as sound or picture)
2nd on the list 'accuracy in details: EXACTNESS' is what defines High Fidelity Sewing.
Have a project you'd like to chat about? Give us a call or use the form below to get the conversation started.
HIGH FIDELITY SEWING
831 824 4176
SANTA CRUZ, CA